We are getting ready for our Mother's Day Tea next Wednesday. The students have been working hard on our two Mother's Day songs. I love these two Mother's Day songs because they really capture the relationship between Moms and their children. I am including a link to download the lyrics to the songs. I am currently trying to find a way to include the sound waves of the songs. I have never included sound bites on my blog. This will be something new for me. If I can figure out how to do it and not break any copyright laws, then I will add the sound files in a couple of days.
The students will be tracing their hands this week and making them into lilies with pipe cleaners. Last year the students made these handprint flowers and they turned out great! Each student will make 4 flowers and they will be tied together into a mini bouquet. I am including a link for instructions to make the bouquets and flowers at the end of this post.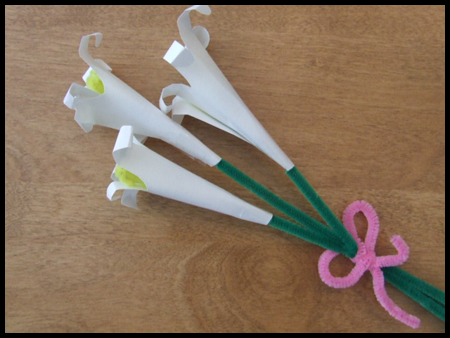 All the bouquets are then placed in a vase and handed out with the student's book they wrote and illustrated for their mother. If you missed my post on the Mother's Day books go check out the post Books and Tea Anyone?
Here is the link for the lyrics to the songs the students will be performing:
https://docs.google.com/document/d/1M76EKzXfOQalCvY3gCooQOhDmdujNRIq7goamepRunI/edit?hl=en&authkey=CNTW2-EI
(link for songs)
http://www.artistshelpingchildren.org/kidscraftsactivitiesblog/2009/03/how-to-make-easter-lilies-bouquet-of-flowers-craft-with-your-kids-handprints/ (link for flowers)